Lenovo ThinkSystem DE6000F
All Flash Array
Speed, flexibility and capacity
Designed for I/O intensive applications, the Lenovo ThinkSystem DE6000F all flash array offers breakthrough performance and scale, along with enterprise-proven availability features.
The easy-to-use management interface makes complex administrative storage tasks simple, including setup in less than 15 minutes with the Rapid Deployment Wizard. The same interface is used across the DE Series family allowing for flexible IT administration.
The Lenovo ThinkSystem DE6000F offers connectivity choices and impressive storage capacities. Choose between 12Gb SAS, 16/32Gb Fibre Channel (FC), 4x 25/40/100 Gb NVMe/RoCE QSFP28 host ports (DAC cable or SW fiber optics, MPO) (2 ports per controller) or 10Gb iSCSI to integrate into your existing network. The DE6000F can hold up to 24x 2.5-inch SSDs internally, and supports up to 128 drives total. SFF enclosures are supported in the same array and up to four expansion units can be added to the DE6000F for greater capacity to provide a balance of performance and capacity.
This all-flash array combines industry-leading, enterprise-proven availability features with up to 1M of IOPS, sub-100 microsecond response times, and up to 21GBps of read bandwidth.
Lenovo ThinkSystem DE6000F Features Highlights
First-to-market midrange performance SAN at entry-level pricing
Rapid Data Placement Engine provides accelerated performance and 99.999 percent availability, for "always on" data access
Superior cost/GB without compromising performance, up to 1.84PB of raw storage capacity
Simple storage management for fast setup and easy administration with the Rapid Deployment Wizard
All-flash array capabilities and NVMe over Fabrics
Supercapacitor backup provides longer duration and less servicing than battery, for greater uptime
Other key features include Rapid RAID Rebuild, Rapid Tiering, asynchronous replication, multiprotocol support, Active/Active controllers, and Lenovo XClarity integration
Uncompromising performance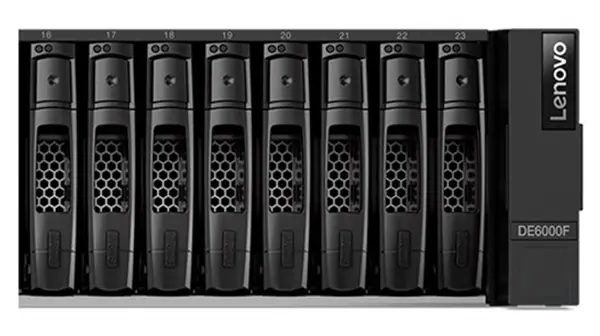 The Lenovo ThinkSystem DE6000F delivers higher IOPS and low latency through the Rapid Data Placement Engine, at a fraction of the cost of competing solutions. Designed for speed within a cost-optimised architecture, the DE6000F delivers superior cost/GB without compromising performance. It's equipped with storage tiering, high availability, thin provisioning, and other enterprise-class features. This provides your business with a solid foundation to grow, while delivering the best price for performance in its class.
Capacity-optimised SSDs (1 drive write per day [DWD]): 3.84 TB, 7.68 TB, and 15.36 TB
High performance SSDs (3 DWD): 800 GB, 1.6 TB
High performance self-encrypting FIPS SSDs (3 DWD): 1.6 TB
1,000,000 IOPS
SAS, iSCSI, FC, NVMe/FC, NVMe/RoCE
Up to 120 2.5″ SFF Drives
You no longer need to decide between faster access to information and lowering the cost of your IT infrastructure. The Lenovo ThinkSystem DE6000F allows you to save money while maintaining operational excellence.
How can we help?
As a fully accredited Lenovo partner we can provide support, configuration advice and evaluation systems for you to test in your environment. If you would like to know more please phone us on 01256 331614 or complete our online form.