Lenovo ThinkStation P620 Workstation
The World's First Threadripper™Pro workstation
The Lenovo ThinkStation P620 is a new generation of workstation. Designed for professionals who require ultimate performance in a workstation capable of supporting 8K video streaming in real time, reduced render times, faster simulation solving, and other benefits that come with parallel performance.
As the first and only professional workstation powered by AMD's brand-new Ryzen Threadripper PRO processor, the workstation brings together unprecedented levels of power, performance and flexibility in a single socket CPU platform.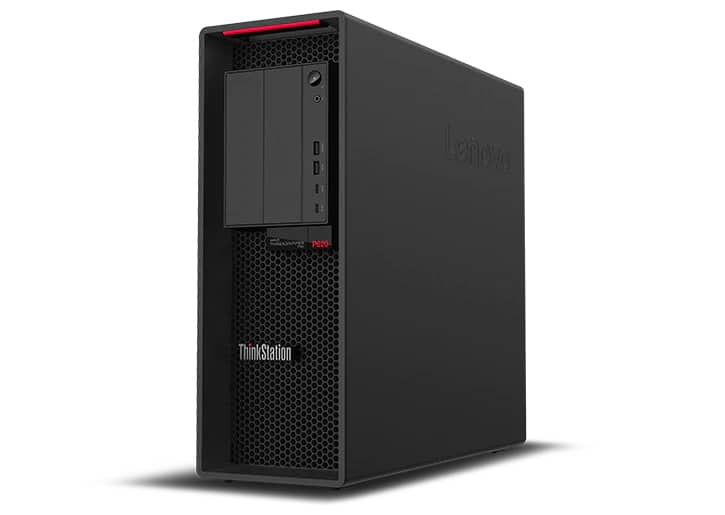 Today's digital creation environments are packed with ever-scaling projects and increasingly complex workflows. From design and visualization, to rendering and AI, enterprise users require a workstation that can not only keep pace but outperform what was previously possible.
Lenovo ThinkStation P620 Performance
The AMD Threadripper processor has clock speeds up to 4.0GHz, 128 lanes of PCIe 4.0 bandwidth, and eight-channel memory support. It supports 1 TB of RAM and 20 TB of storage, which can be spread across 8 storage devices.
The Quad AIC M.2 SSD Adapter adds 4 high-speed PCIe M.2 SSDs to your workstation with an available x4 express expansion slots, further expanding overall internal storage.
The workstation supports up to two NVIDIA Quadro RTX 8000 or four RTX 4000 graphics cards, and up to 1TB DDR4, 3200MHz of memory (8x128GB DIMM modules).
It is also the first and only PCIe Gen 4 (offering twice the bandwidth of PCIe 3.0) workstation available today.
"Previously, we always had to choose between either high core count or high clock speed. The workstation is powered by AMD's Ryzen Threadripper PRO Processor is optimized for both aspects in a way that previous HEDT CPUs never quite were. It provides ground-breaking performance for everything from professional visualization and simulation to compiling and building for game development, whether the team is working from home or in the office."
Cost Effective Against Dual Socket Workstations
Media & Entertainment: Whether used for 3D animation, compositing, editing, creative finishing, or rendering, the Lenovo ThinkStation P620 delivers high clock speed and 12, 16, 32 and 64-core AMD Threadripper™ Pro processors so you can realize your creative vision.
Architecture, Engineering, & Construction: Run BIM applications faster with the LenovoThinkStation P620 workstation. Architects, designers, and engineers can choose 12 or 16 core CPUs with clock speeds up to 4GHz and powerful graphics to enjoy quicker modeling and faster rendering.
Manufacturing & Product Development: Perfect for CAD-intensive applications and processor-intensive CAE workflows, the Lenovo ThinkStation P620 boasts high clock speed for solid modelling and high core count for generative design, simulation, visualization, and CAM. It delivers the horsepower needed to design and validate concepts.
Healthcare: With a high core count and fast clock speeds, the Lenovo ThinkStation P620 workstation is designed to accelerate predictive modeling, data analytics, and simulations to aid in drug discovery and development of life-saving medicine and vaccines.
Financial Services: The Lenovo ThinkStation P620 workstation delivers a best-in-class balance of CPU GHz and core count to deliver the ultimate in performance and productivity for the demanding requirements of today's investment bankers, trading floor analysts, and financial market professionals.
Artificial Intelligence (AI): From Model Training and Machine- and Deep-Learning to Inferencing, Edge Computing, and Data Analytics, the Lenovo ThinkStation P620 enables data scientists to seamlessly scale between heavy CPU, GPU, and demanding heterogeneous AI workflows with speed and efficiency.
Security
In addition, AMD Ryzen Threadripper PRO desktop processors offer advanced security features like AMD Secure Processor, operating by validating code before it is executed to help ensure data and application integrity, as well as AMD Memory Guard which enables full memory encryption to help protect sensitive data against advanced physical attacks.
Choice of AMD Ryzen™ Threadripper™ Processors
The Lenovo has a single-socket central processing unit supporting the AMD Threadripper PRO in the table below and is designed for applications such as design, visualization, rendering, and artificial intelligence.
Lenovo ThinkStation P620 Performance vs Competition
Benchmarks show that storage applications can run at 1.86 times faster than the competition, and that the system has up to 37% higher graphics performance compared to competing solutions.
Against a system with two Intel Xeon Platinum 8280 processors, the AMD-based system won in 25 different benchmark tests!
ISV Certifications
Adobe® Altair® Autodesk® AVEVA™ AVID® Barco® Bentley® Dassault® Eizo® McKesson® Nemetschek® PTC® Quadrus® Siemens®