Lenovo ThinkSystem SR650 Server
ThinkSystem SR650 powered by Intel® Xeon® Processors
The Lenovo ThinkSystem SR650 is a dual-socket 2U rackmount server that supports the Intel® Xeon® family of processors. Designed to tackle big data centre workloads such as databases, big data and analytics virtualization, VDI, HCI, HPC and AI solutions.
The Lenovo ThinkSystem SR650 up to 2 second-generation Intel® Xeon® Platinum processors, and a TDP ratings up to 205W. With support for the new Intel® Optane™ DC Persistent Memory.
With a wide choice of storage storage configurations the Lenovo ThinkSystem SR650 servers provides support for high capacity HDDs to lightning-quick NVMe drives to maximize both data capacity and throughput performance.
The Lenovo ThinkSystem SR650 provides the expandability, networking scalability, and speed necessary to ensure that I/O intensive workloads such as software defined networking, and grid computing do not encounter bottlenecks that reduce full enterprise efficiency.
Versatile and Scalable
The Lenovo ThinkSystem SR650 incorporates up to two powerful Intel® Xeon® processor Scalable family CPUs, with 27 percent more cores and twice the memory capacity of the previous generation server*. It supports two 300W high-performance GPUs and ML2 NIC adapters with shared management. Unique Lenovo AnyBay technology provides the flexibility to mix-and-match SAS/SATA HDDs/SSDs and NVMe SSDs in the same drive bays. Four direct-connect NVMe ports on the motherboard provide ultra-fast read/writes with NVMe drives and reduce costs by eliminating PCIe switch adapters. Plus, storage can be tiered for greater application performance, to provide the most cost-effective solution. Optional mirrored M.2 drives ensure reliability and quick OS initialization. SR650 also features 80 PLUS Platinum and Titanium PSUs, as well as continuous operation at 45°C, to reduce energy costs.
Lenovo ThinkSystem SR650 Key Features
World renowned for server reliability 1st 7 years in a row!
Support for up to 7.5TB of system memory
Support for up to two processors, 56 cores, and 112 threads allows to maximize the concurrent execution of multithreaded applications.
Intelligent and adaptive system performance with energy efficient Intel Turbo Boost 2.0 Technology allows CPU cores to run at maximum speeds during peak workloads by temporarily going beyond processor thermal design power (TDP).
Intel Hyper-Threading Technology boosts performance for multithreaded applications by enabling simultaneous multithreading within each processor core, up to two threads per core.
Intel Virtualization Technology integrates hardware-level virtualization hooks that allow operating system vendors to better utilize the hardware for virtualization workloads.
Intel Speed Select Technology provides improvements in server utilization and guaranteed per-core performance service levels with more granular control over processor performance.
Intel Deep Learning Boost (Vector Neural Network Instruction set [VNNI]) is designed to deliver significant, more efficient Deep Learning (Inference) acceleration for high-performance Artificial Intelligence (AI) workloads.
Intel Advanced Vector Extensions 512 (AVX-512) enable acceleration of enterprise-class and high performance computing (HPC) workloads.
Innovative Management
The ThinkSystem SR650 features Lenovo's lauded XClarity system management suite. The XClarity management controller supports an easy-to-use application with industry standard Redfish-compliant REST APIs that provide streamlined hardware provisioning and maintenance, enabling a data-driven, centralized view of data centre operations.
Trust Lenovo ThinkShield to protect and defend your data centre infrastructure from attacks, with a comprehensive end to-end approach to security that begins with development and continues through supply chain and the full life cycle of the device.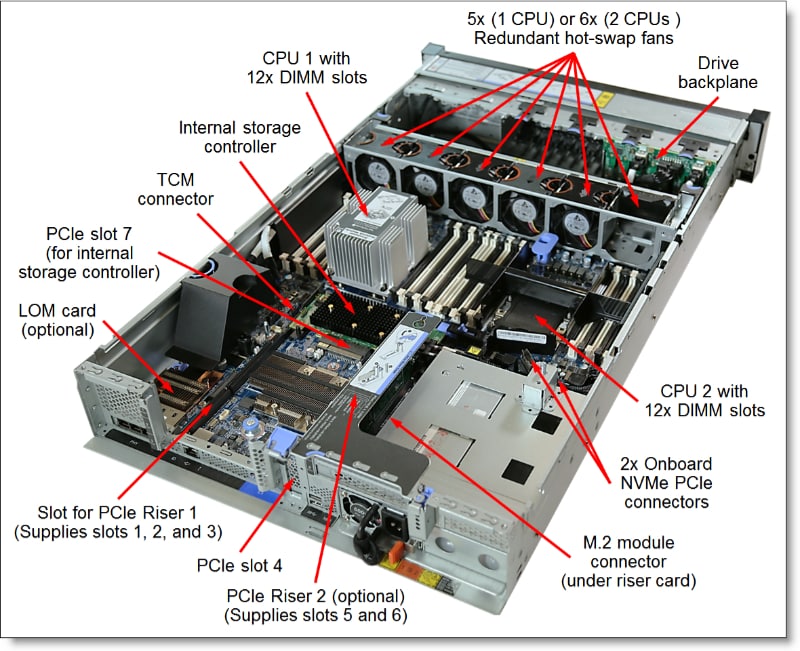 Why Lenovo
Lenovo is the leading provider of x86 systems for the data centre. The portfolio includes rack, tower, blade, dense and converged systems, and supports enterprise class performance, reliability and security.
Lenovo ThinkSystem SR650 Specifications
3D System Tour Lenovo ThinkSystem SR650
What now?
As certified and approved suppliers we can help provide evaluation systems, quotations and full technical support and services to ensure you're pleased with your purchase and would recommend them again.