Edge Computing Servers
What is computing on the edge?
In the fast-changing world, we live in today businesses are reducing their data centre footprints and adopting a cloud model, where information is collected, stored and processed. It isn't quite like that as the data generated requires far bigger transmission pipes than are currently available or companies can afford. Although data centres are shrinking due to advances in technology, applications and computing are now being taken out of the data centre and deployed in the field as edge computing devices. Many of these applications such as IoT, mobile devices, smart devices, AI, gaming, Machine Learning, content caching etc all require the information to reside locally where demand is localised and this requirement has led to edge computing servers to provide compute, storage and network connectivity on the edge.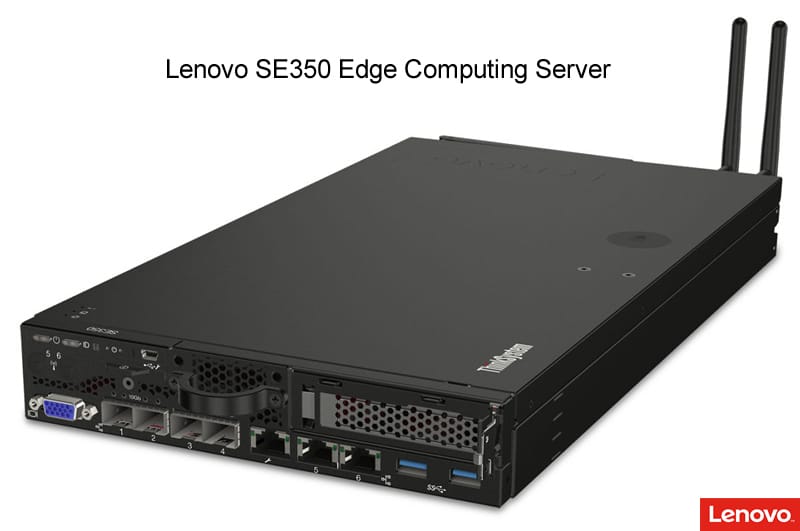 Edge Computing Applications
Deploying edge computing servers remotely across the globe, opens up many new applications and markets for businesses globally. Below are some edge computing ideas and use cases.
Deploy in ROBO (Remote Office Branch Office) to act as a localised server to provide system updates, patches or a backup application.
An edge computing server provides additional security and functionality over desktop operating systems, thus allowing a more secure and manageable deployment
Use an edge computing server to provide VM's for creating a localized VDI environment for education or healthcare
In the middle of a field, utilising LTE provides the connectivity to the internet or WAN
Manufacturing sites where the local infrastructure isn't available to support server deployments
Factory floors or warehouses
Where space, power and cooling are an issue
Remote monitoring for AI, IoT or data analytics gathering
Telecommunications
Small remote office or DR site providing fail-over
Hyper-converged infrastructure
Transport – Ships, aircraft, submarines, trains, trucks i.e. F1, oil exploration
Data Processing
Edge computing removes the requirement of processing information in a data centre as it isn't a realistic option as network bandwidth, latency and bandwidth limitations and security problems limit the amount of data a business can process at any one time at its headquarters. Most of the time this data needs to be processed in real-time but due to latency, it could take many minutes to process the information centrally, by which time the event has passed.
With newer applications being pushed out of the data centre and residing locally there is an increasing requirement to move to edge computing servers that can take advantage of the business network or use the internet to process information locally and then upload the results when time permits, bandwidth availability or when the results are needed and this is where the idea of edge computing servers was born.
Edge Computing Requirements
Edge computing requires a secure, rugged, small, powerful, low powered server that can handle an environment where air conditioning doesn't exist! Lenovo have created a new market for servers residing outside of the data centre and fortunately, the new Lenovo SE350 edge computing server is designed to work in this environment as an edge computer. It can process all the information locally avoiding costly transmission times to provide real-time data analytics on i.e. traffic flow, checking of documents at passport control, number plate recognition or many other new and emerging areas where the processing of information must be done in an instant.
Data Security
Security using edge computing servers is a big issue for any business, in a data centre these servers are protected and monitored 7×24, in the field they are not. One of the first things Lenovo thought about was data security and protection, having an edge computing server that could fit under your arm, makes it easy to steal if it resides in a portable cabin. The Lenovo SE350 edge computing server has been designed with both physical and electronic protection from the outset. Physical protection is handled using a variety of mounting options including floor, ceiling, vertical, horizontal or rackmount and using a Kensington lock, whilst this won't stop the most determined thieves it helps. Electronic protection features are shock, vibration and movement using a shock sensor and built-in gyroscope. In addition to this if any of these features are activated the edge server automatically deletes the encryption keys used to access the data stored on M.2 drives, rendering the information useless.
Network/Internet Connectivity
Edge computing means these devices are on the periphery of networks processing information. An edge computing server might need to connect to the Wi-Fi, Internet or LAN and Lenovo have thought of this with connectivity options of 10/100Mb/s, 1Gb/s or 10Gb/s they have it including Wi-Fi or internet options.
Remote Management
Edge computing servers in the field may require an IT engineer, but they could be miles away. Therefore, remote management and reporting are a key requirement for deploying edge computing devices in the field. The Lenovo SE350 edge computing server integrates with Lenovo XClarity allowing you to deploy and manage your entire edge computing environment through a simple and intuitive GUI.
Edge Computing Performance
An edge computing server won't have the fastest processors found in a 2U rackmount server residing at the data centre. It needs to be powerful enough to run a variety of operating systems and applications, support a GPU for image recognition or run a hyper-visor to support remote desktops. The Lenovo SE350 edge computing server supports a single Intel Xeon D Processor, with up to 16 cores, core speeds of up to 2.2 GHz, and TDP ratings of up to 100W. Having a high-powered processor also needs a large amount of memory to support those cores and applications, the Lenovo SE350 supports up to 4 TruDDR4 memory DIMMs and up to 256 GB of memory using 64 GB DIMMs.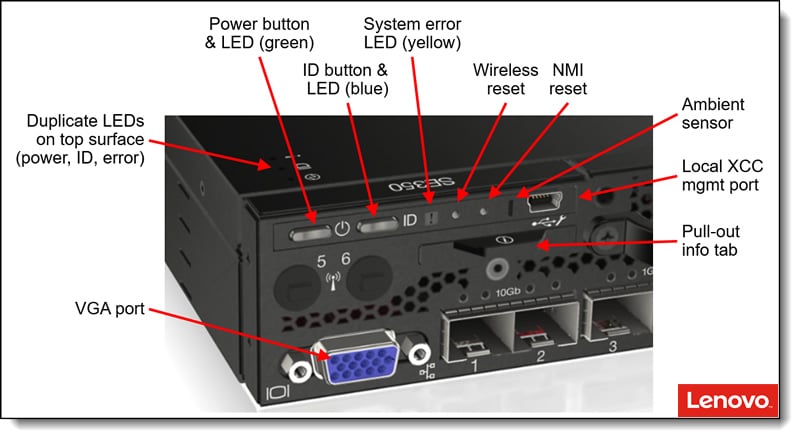 Data Storage
In an edge computing environment data is constantly being generated and processed. The RAW data could be uploaded to the cloud or sent back to the data centre, the problem with this approach is available network bandwidth and time. It is far better to process the information locally and upload the results and discard the rest, in time to start again. The Lenovo SE350 edge computing server supports up to eight M.2 NVMe drives of up to 2TB each with or without RAID and support for an additional two M.2 drives for your operating system.
Power & Cooling
Edge computing devices are not going to sit in a nicely cooled data centre, they are more likely to be found in a telecoms rack, portable cabin or roadside cabinet where air conditioning doesn't exist, but fresh air does. A 2U rackmount server operating in these environments is unlikely to last more than 3 months, unless it sounds like a jet engine taking off. The Lenovo SE350 edge computing server complies with ASHRAE A4 specifications 5°C to 45°C (41°F to 113°F) operating and whilst shipping to harsh remote environments -40°C to 60°C (-40°F to 140°F).
Energy efficiency is a key requirement for deploying an edge computing device as you are unlikely to have three phase power in a field. The Lenovo SE350 edge computing server support 12V PDM or -48VDC PDM (-40VDC to -72VDC) using a single PSU or a single or dual 100-240V, 20A 240W AC Adapter.
Edge Computing Summary
Deploying an edge computing device will greatly reduce internet bandwidth, allow data to be processed locally in real-time, greatly reduce the latency between the edge sensor or application and allow a business to create more powerful applications that operate remotely to provide greater insights that the application generates.
In the data driven world we now live, new applications are driving information towards the edge literally, how this information is processed and handled requires agile IT departments to deliver these applications and process the information for the business to analyse. Lenovo clearly saw a market for this by launching the SE350 edge computing server and hats off to them for being first in a new market that has a huge growth potential.